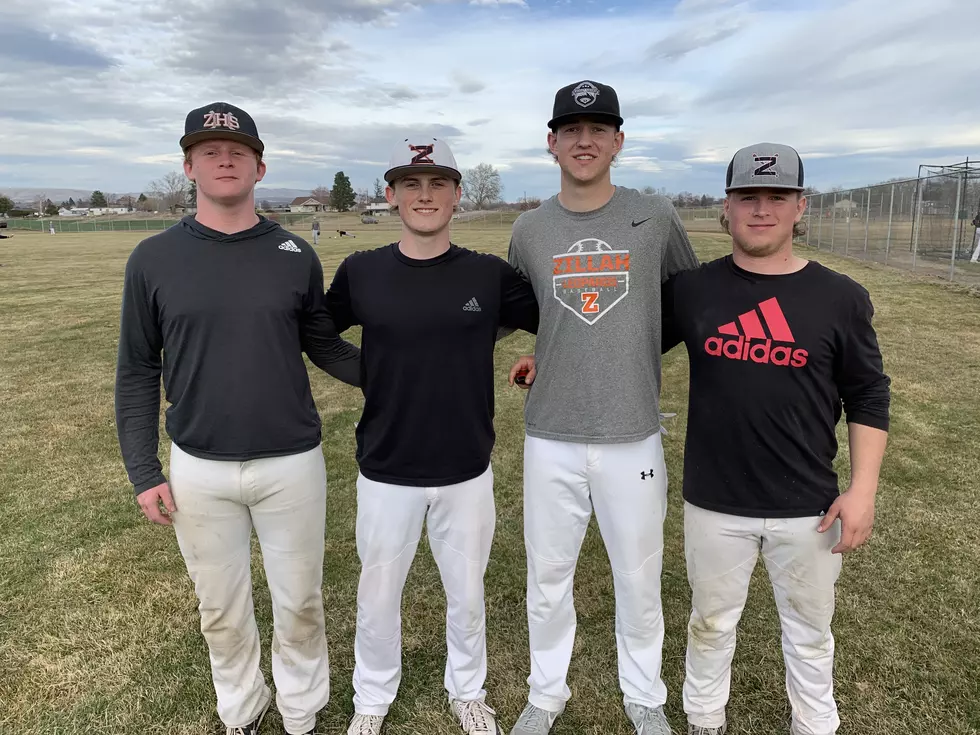 Zillah Baseball Eager To Roll Out Loaded 2020 Roster
TSM/Micah Chen
Ben Kibbe P/SS - Kibbe is one of the top overall pitching prospects in Washington. He's an intimidating presence on the mound at 6-foot-4, 200-pounds with a fastball in the low 90s. Last year he spun a 0.93 ERA with 87 Ks. Will play college ball at Utah. 
Braydon Flood P/C - Flood is a baseball playing machine, as he holds down catching duties, is a featured pitcher, and hits for a nice average. Expect him to be a key cog in the middle of the order, and also make quality starts on the mound. 
Lane Damron P/CF - Centerfield is one of the most important positions in baseball, and Damron knows how to do it. He possesses very good speed, range, and instincts. Damron is a great producer at the plate as well, as he hit .444 last year. 
Like many of the sports programs at Zillah High School, the Zillah Baseball team has a track record of winning seasons and qualifying for the playoffs. 
As fun as it is to romp through the regular season and make noise in the district tournament, it's been many years since they've cracked the elusive final eight. 
The chance to compete for a 1A State Title at Yakima County Stadium would be the dream for this baseball program. 
The head coach of the Leopards, Matt Brown, is going into his eighth year as skipper. He's burned the midnight oil plenty of times trying to assemble a state title contending lineup. 
Perhaps the most key component of a contending team is it's pitching staff, and Zillah believes they have a good one this year. 
Their rotation is anchored by a bonafide ace in Ben Kibbe. The hope is Zillah can win every game he starts, and it's not as far fetched as it sounds.
With the loss of Kaden Magana, Zillah will be looking for a number two arm to consistently roll out on double headers. A couple pitchers vying for innings include Braydon Flood and Lane Damron.
Handling responsibilities behind the dish will be Braydon Flood. He'll be monitoring his arm closely as he's both catching and pitching. 
The outfield features a brother combo in Lane and Brady Damron. They are both similar in that they are both rangy in the outfield, and can wreak havoc on the basepaths. Filling out the outfield is left fielder is Zane Giles. He's a returning starter who is consistent across the board.
When Kibbe isn't pitching, he'll be playing shortstop like he did last year. When he is pitching, look for sophomore Christian Hettich to make a splash in his first year contributing. 
Joining them in the middle infield is another newcomer in Anthony Johnson. His approach at the plate this year is to garner a high on base percentage. Both Johnson and Hettich are versatile at second base, shortstop, and even third base. 
A candidate to play first base is going to be an intriguing sophomore in Jake 'Deuce' Van Kemske. The reason he's intriguing is he's the younger brother of Drew Van Kemske, who was an absolute legend for Zillah Baseball. 
Projected to hold down the 'hot corner' is sophomore Avery Delude. He made some nice plays on JV last year, so the hope is he can take his game to another level. 
It's worth noting that this is a very young roster. It currently has three seniors, three juniors, and nine underclassmen. But sometimes that's the way it goes in small town baseball. 
While Zillah does boast a Pac-12 baseball prospect, it can't be denied that there are several 1A schools (largely on the westside) that feature many top flight prospects. Fortunately for Zillah, they have a dedicated bunch, and it's a healthy culture. Head coach Matt Brown always puts his team in the best position possible to succeed. If a truly elite arm can emerge behind Kibbe, there's solid reason to believe this team can push for the final four.