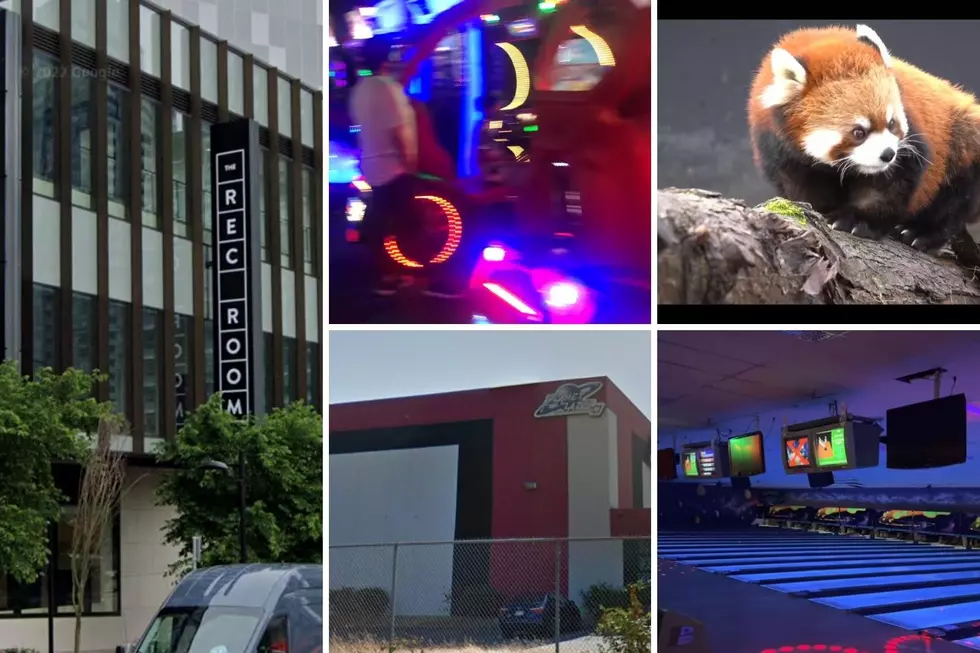 5 Things to Do with Kids in Vancouver, Canada
Jessica in Canada, Abhi Arun, Stephen Vlogging, and Greater Vancouver Zoo via YouTube/Google Maps/Canva
It has been two (2) years since the Amtrak from Seattle to Vancouver has been closed. The covid pandemic did us in, preventing us from exploring a part of the world that is just so close to Washington and right over the invisible border between our two countries.
There is a bus that takes you from Seattle to Vancouver but that trip can take upwards of 9 to 10 hours. Now that Amtrak has announced the rekindling of the daily train from Seattle to Vancouver (one daily trip departing from Seattle at 7:45 a.m. and arriving in Vancouver at 11:45 a.m.), there is a faster and easier way to enjoy these 5 places we can visit in Vancouver with our kids!
344 Deer Lake Ave, Burnaby, BC V5G 2J3, Canada 
There is nothing like a cool art gallery to have you "catching feels" for a city. I felt that way when I took my then-toddler, Willow, to the Seattle Asian Art Museum, and I know that I will feel that way when I take her to the Burnaby Art Gallery. Burnaby is a small suburb of Vancouver.
"As the only public art museum in Canada dedicated to works of art on paper, the Burnaby Art Gallery endeavors to represent a variety of techniques and practices from artists of diverse backgrounds."
5048 264 St, Aldergrove, BC V4W 1N7, Canada 
Washington state has some wicked cool zoos, like the Cougar Mountain Zoo, Northwest Trek Wildlife Park, and the Woodland Zoo, but how about taking the Amtrak to explore the Vancouver Zoo? Click here to see the animals we don't see much in Washington that have been rescued and rehomed in Canada. We're talking about animals like the Common Eland, Dwarf Zebu Cattle, the Grey Wolf, Muskox, Nilgai, Red pandas, the Red-Necked Wallaby, and more!
1920 Willingdon Ave Unit 2106, Burnaby, BC V5C 0K6, Canada
This place has everything. From video games, ping pong, VR games, a pool table, a dance floor, karaoke, a bar, and even a KPop-themed night, The Rec Room in Burnaby is one of the hottest places to take your kids in Canada. It's only about 20 minutes from Vancouver and you don't even need a car to get there.

4380 Triangle Rd, Richmond, BC V6W 1B1, Canada
About a half-hour from Vancouver is Planet Lazer, a huge venue that takes laser tag very seriously. They claim to be the largest laser tag place in North America, too! They have won awards for being the best place to play laser tag and up to 50 people, including kids, can play at once. There is also a trampoline park inside the building that says it's the largest trampoline park in Canada.
5. 

REVS Bowling Centre

(Has glow-in-the-dark bowling, too)
5502 Lougheed Hwy., Burnaby, BC V5B 2Z8, Canada 
From Vancouver, you can take the Holtram Station to the Bowling Centre. They have glow-in-the-dark "Cosmic Bowling" times as well as general fun bowling options during the day. On Friday and Saturday nights, they are open until 1 a.m. so if your kids are night owls, this is the spot to take them in Canada. They have 48 lanes of bowling! I've heard there is a secret bar upstairs in the Bowling Centre. It's located in Burnaby, which is a quick hop, skip, and train ride away from the Amtrak station in Vancouver.
"REVS Burnaby features state-of-the-art Cosmic Bowling, delicious meals and handcrafted pizzas at Striker's Bar, big screen sports games in the REVS Lounge, full service Fitness Centre that includes 5 racquetball courts, cardio room, large strength training area, and much more! So what are you waiting for? Check out Western Canada's #1 entertainment destination today!"
LOOK: Baby names that are illegal around the world
Stacker
scoured hundreds of baby name databases and news releases to curate a list of baby names that are illegal somewhere in the world, along with explanations for why they're banned.
What Are the Signature Drinks From Every State?
The 12 Deadliest Serial Killers in Washington State's Bloody History
Every state is known for something. Florida has swamps and beautiful weather, Iowa has wrestling and corn, New York has Manhattan and Brooklyn-style pizza, Maryland has crabcakes. Washington has apples, wine, IPAs, and serial killers. This article is not meant to glorify these evil people in any way, just shed some light on a bizarre Washington truth. From Bundy to the Green River Killer, these are twelve of the deadliest killers in Washington state history.