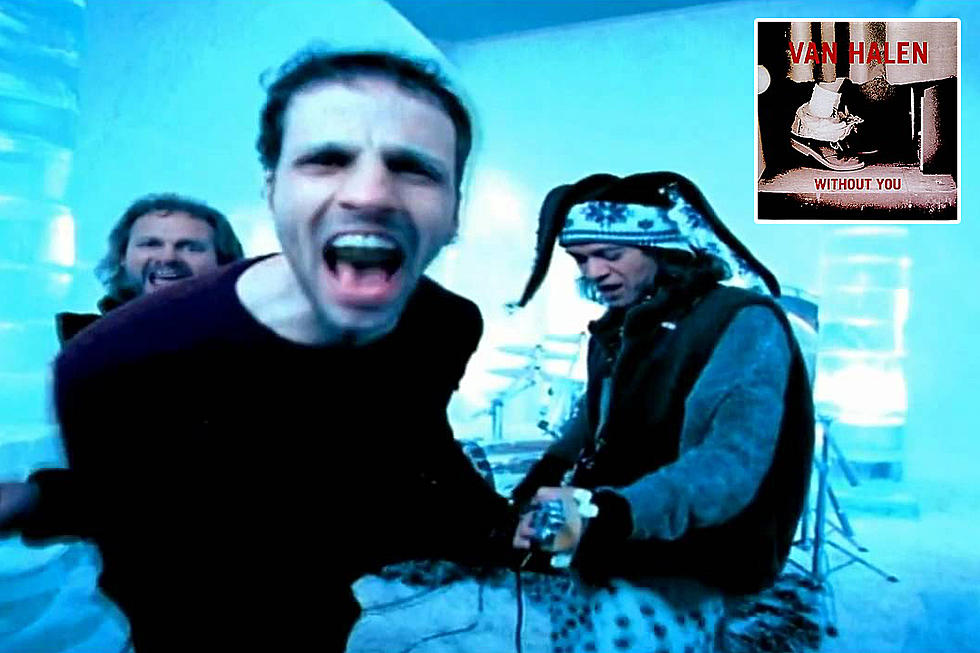 25 Years Ago: Van Halen 'III'-era Gets Off to Fast Start With 'Without You'
YouTube / Warner Bros.
The love affair would not last, but the first blast from often-dismissed Van Halen's third incarnation was actually greeted with great enthusiasm.
"Without You" was released on Feb. 19, 1998, as the lead single from Van Halen III, the group's 11th studio project and first with frontman Gary Cherone. The excitement generated by a long buildup to the new album led to an instant embrace from fans and radio; the track's five-minute single edit, trimmed from six-and-a-half-minutes, became only the second song to debut at No. 1 on Billboard's Mainstream Rock Tracks chart, after Rush got there with "Stick It Out" in 1993.
"We just keep blazing forward," Eddie Van Halen told this writer back then. "We're a new band. This is our first record with Gary. I've been waiting 20 years for this guy. Gary's just a godsend, man. We're on the same page, the same paragraph, the same word, the same sentence when it comes to what we do."
There was plenty of drama before Cherone's arrival, of course. Formed during the early '70s in Pasadena, Calif., Van Halen had acrimonious break-ups with previous frontmen David Lee Roth in 1985 and Sammy Hagar a decade later. Roth returned for a brief reunion in 1996, recording two new songs for the Best Of: Volume I compilation, but then that quickly crumbled.
Cherone, meanwhile, was recruited from the Boston band Extreme, which had hits with "More than Words" and "Hole-Hearted" but was moribund at the time. "The guy who managed [Extreme] is kind of indirectly our manager's partner," Van Halen said, "so our manager suggested Gary and I said, 'O.K., fine.' We had already auditioned a couple of other people. Gary showed up and before he even sang I already knew. The guy's vibe was just – I knew he was one of us. There was not a hint of LSD, Lead Singer Disease. He's just a humble guy who writes great lyrics."
His arrival would, in fact, mark a sea change for Van Halen's writing process. "I've been making music since I was six years old," Van Halen explained, "and this is the first time in my life that somebody handed me lyrics and I wrote – like Bernie Taupin and Elton John. [Cherone] handed me lyrics and I wrote the melody."
Listen to Van Halen Perform 'Without You'
Eddie Van Halen actually wrote most of the lyrics for "Without You," creating the first two verses while Cherone penned the third on their first day together. "We wrote the A-section after blasting through four Roth-era tunes and four Sammy tunes to warm up," Van Halen told Guitar World. Then inspiration struck in perhaps the most unlikely of places. "I went to the bathroom, and I could still hear the drum loop through the wall. Fragments started coming to me, 'Hey, you, wake up, get yourself together ...'
"And people will probably take that as being about a relationship, but it's not," Van Halen added. "It's about the fact that we're all living on the planet, and in order to keep the light alive for our children, we've got to get it together. 'I can't do it without you.'"
Van Halen had purchased a book on Buddhism while in Japan, and that added context to their discussions: "All things are impermanent. Ego isn't real. 'You' own nothing," Van Halen reminded. "If you surround yourself with impure people, you wind up with impure, toxic thoughts. Greed and being out of touch with what's real in ourselves is the basis for so much of what we've screwed up. Humans have only been around for a short period of time, and look what we've done to this planet just in the last hundred years. It's like we're sawing off the limb we're sitting on. That's basically what 'Without You' is about."
"Without You" was also bolstered by a $1 million music video filmed both in Los Angeles and inside the Icehotel in Jukkasjarvi, Sweden. The song would be Van Halen's last to hit No. 1 on the mainstream rock chart, but Van Halen III could not maintain early momentum. Issued a month later, the LP bowed at No. 4 on the Billboard 200 – a far cry from the four consecutive No. 1 debuts with Hagar. Van Halen III then faded quickly, only achieving gold certification after 12 multi-platinum predecessors including Best Of: Volume 1 and 1993's Live: Right Here, Right Now.
The shows that followed also struggled to meet Van Halen's established hot-ticket status, too. They abandoned plans for another album, to be produced by Danny Kortchmar, and Cherone was out of the band by November 1999. It was an amicable split, according to all sides, and Cherone took lyrics with him that he used on his subsequent project, Tribe of Judah.
Van Halen, meanwhile, would be dormant until a disastrous reunion tour with Hagar in 2004. Those shows were accompanied by another compilation, The Best of Both Worlds, which crossed multiple eras and and featured three new songs with Hagar. None were included from Van Halen III.
Meet the New Boss: Rock's Replacement Singers
Some bands soar to their greatest heights after an original frontman leaves. Others must deal with the past's towering expectations.
Think You Know Sammy Hagar?