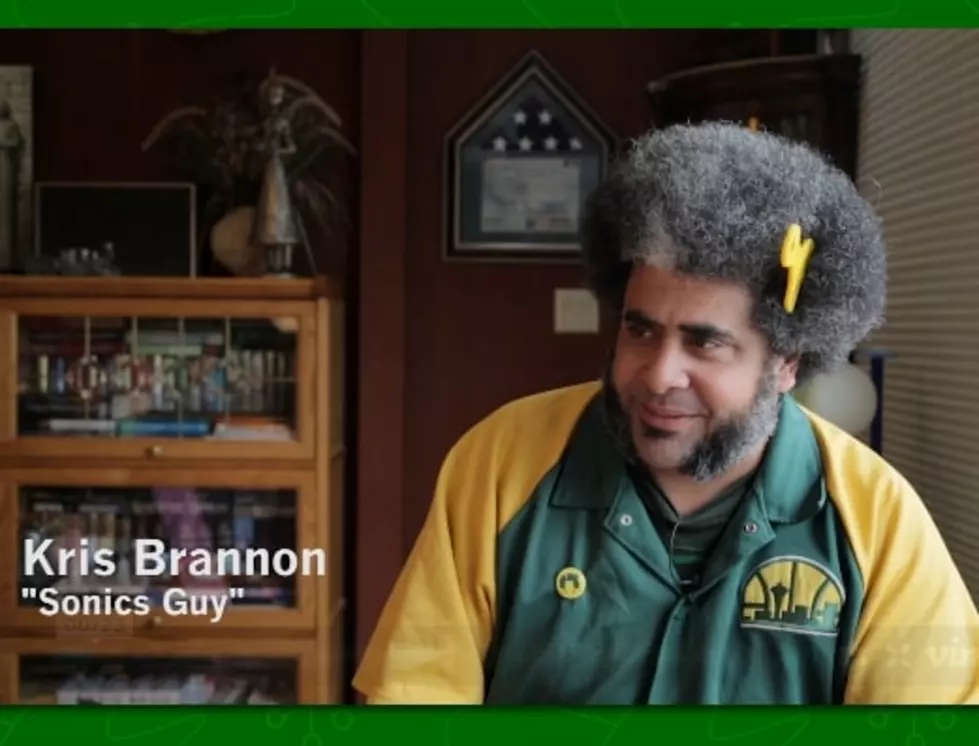 R.I.P. Kris Brannon, AKA "Sonics Guy" [VIDEO]
Vimeo/ThisIsChris.com
He was not, necessarily, a household name but if you ever attended a big event in the Seattle area you almost were certainly aware of the "Sonics Guy". His name was Kris Brannon and tragically passed away the other day leaving a huge void as a voice and advocate for bringing an NBA team back to Seattle after the Super Sonics were relocated to Oklahoma City followi.g the 2007-08 season.

Brannon was larger than life in many ways. He was physically big -- towering above the average person -- while rocking an unmistakable afro and always -- ALWAYS -- decked out in Sonics green and gold swag. He would usually be holding a sign of some sort with the sentiment of "Bring Back Our Sonics" or something similar. The television cameras on hand at sporting events always were drawn to him but his ability draw people together was what he will, likely, be most remembered for.
The sports community in the Northwest is reeling today as evidenced by the outpouring of love from fans. Because he was part of the Northwest comedy scene as well,a number of comedians also expressed their shock, dismay and love for Brannon.
Yakima native Jonas Barnes, who now lives and performs stand-up in New York City posted this on his personal Facebook page:
Our old pal Craig Gass, a comic that honed his craft in Seattle had this to say about Brannon:
Another Seattle superfan, Loren "Big Lo" Sandretzky mentioned Gass in his heartfelt tribute to Brannon on his Facebook page as well.
A couple of years ago, filmmaker Leigh Burmesch made a short documentary film about Brannon titled, aptly and simply, "Superfan".
Clocking in at just under seven minutes, it is well worth the watch.

R.I.P., "Sonics Guy". You are already missed and will never truly be replaced.
#BringBackOurSonics