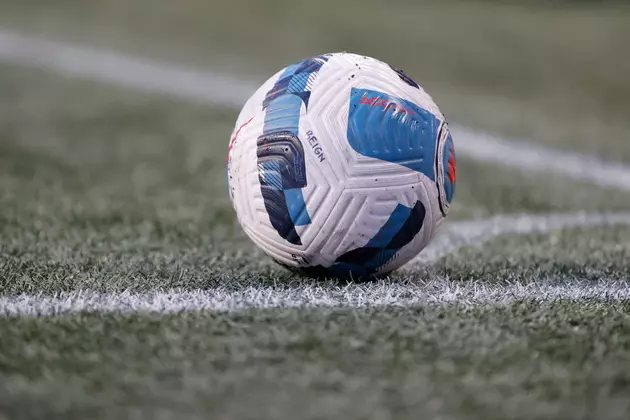 Portland Earns NWSL Playoff Spot With Win Over Gotham
Getty Images
Hina Sugita scored the lone goal and the Portland Thorns secured a spot in the National Women's Soccer League playoffs with a 1-0 victory at home over Gotham on Saturday.
Sugita scored for Portland (10-6-5) in the 54th minute, beating her defender and heading in Sam Coffey's cross to the back post on a recycled corner kick. Coffey now has a league-leading eight assists this season.
Olivia Moultrie had a shot ping off the post in the 34th minute, but neither team could find a goal in the first half.
Sophia Smith, the league's leading scorer, entered the match in the 83rd minute, getting her first minutes since Aug. 27 when she sprained her knee.
Despite the loss, Gotham (8-7-6) remains in fourth place in the league standings with one game remaining.
NORTH CAROLINA COURAGE 0, SA DIEGO WAVE 0
The Courage and Wave played to a scoreless draw in front of more than 10,000 fans at WakeMed Soccer Park in Cary, North Carolina, setting the club's attendance record.
North Carolina (8-7-6) finished the match with 12 shots to San Diego's four, but couldn't find the back of the net. Getting just one point this weekend, the Courage will need to wait until next week to try to secure a playoff spot.
Goalkeeper Kailen Sheridan made three saves for the Wave (10-7-4), who have already qualified for the playoffs.
KANSAS CITY CURRENT 6, CHICAGO RED STARS 3
Debinha scored early in the second half and the Current had a club-record six goals against the Red Stars, who were eliminated from playoff contention with the loss.
A record crowd of 15,671 was on hand at Children's Mercy Park for the Current's final regular-season match at home. Kansas City (8-12-1) was already eliminated from the playoffs.
Izzy Rodriguez got Kansas City on the board first in the 14th minute, doing a give-and-go with Debinha and shooting into the right corner.
Chicago (7-11-3) responded five minutes later when Kayla Sharples pounced on a loose ball in the box following a corner kick.
LaBonta put the Current up in the 22nd minute off a flick from Alexa Spaanstra, who scored herself in 44th to push the lead to 3-1.
Just before halftime, Current goalkeeper Adrianna Franch received a back pass from her defender, which slid under her foot for an own goal to get the Red Stars within 3-2.
Debinha scored in the 52nd but Chicago closed within a goal when Bianca St-Georges' scored in the 63rd.
Cece Kizer and Mimmi Larsson both scored in stoppage time to put it away.