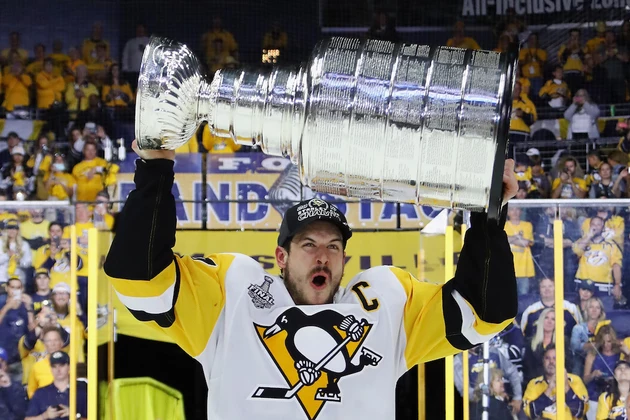 Pittsburgh Beats Nashville, 2-0, To Repeat As Stanley Cup Champs
Getty Images
Patric Hornqvist beat Pekka Rinne from alongside the net with 1:35 to play, and the Pittsburgh Penguins beat the Nashville Predators, 2-0, to win their second consecutive Stanley Cup in a controversial Game 6 on Sunday.
With the victory, Pittsburgh became the first NHL team to repeat as champions in the salary cap era.
Penguins' goalie Matt Murray shut out Nashville, stopping 27 shots. He didn't allow a goal in the last 126 minutes of the finals.
Rinne made 27 saves for the Predators, but he couldn't get to Hornqvist's wacky shot off a rebound. Carl Hagelin scored an empty net goal with 13.6 seconds left to clinch the Cup for Pittsburgh.
Nashville seemed to have scored early in the second period, but a referee's whistle negated Colton Sissons' poke goal past Murray. The Predators lost for the first time on home ice this postseason.
Penguins' captain Sidney Crosby won the Conn Smythe Trophy as playoff MVP for the second consecutive year. He is the third player to do so (Mario Lemieux in '91 & 92; Bernie Parent in '74 & '75).
The Detroit Red Wings in 1997 and `98 were the last Stanley Cup champion to win back-to-back titles.
2017 NHL Stanley Cup Finals: Pittsburgh def. Nashville, 4-2
Game 1: Pittsburgh 5, Nashville 3
Game 2: Pittsburgh 4, Nashville 1
Game 3: Nashville 5, Pittsburgh 1
Game 4: Nashville 4, Pittsburgh 1
Game 5: Pittsburgh 6, Nashville 0
Game 6: Pittsburgh 2, Nashville 0
Best-of-seven series