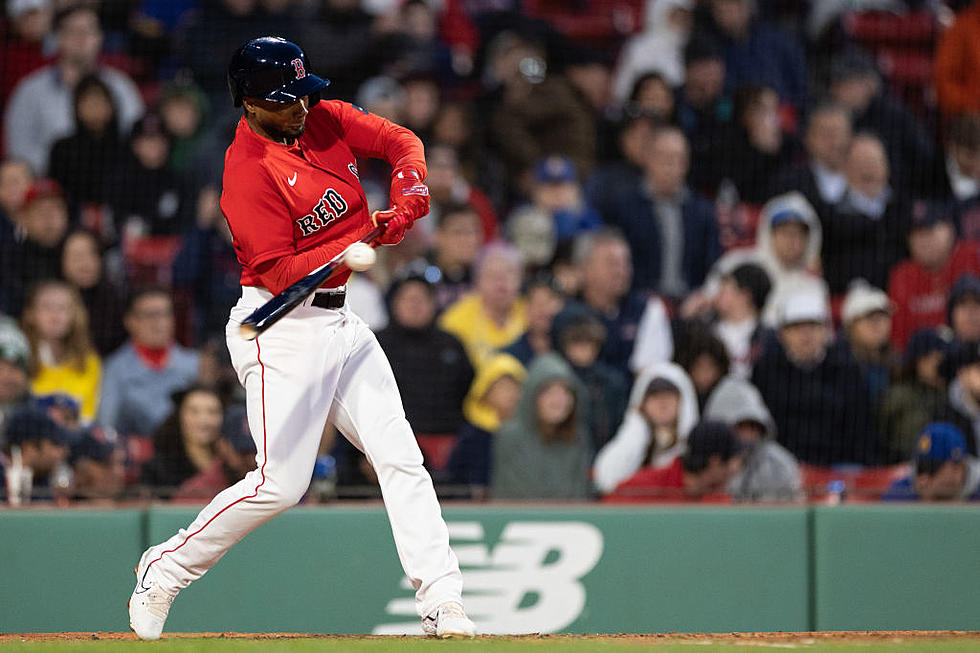 Pablo Reyes Helps Power Red Sox to 12-3 Win Over Mariners
Getty Images
BOSTON (AP) — Pablo Reyes doubled twice for a career-high four RBIs to help the Boston Red Sox beat the Seattle Mariners 12-3 on Wednesday night.
Reyes was acquired from the Oakland Athletics on Friday.
"I'm very happy since I came here," Reyes said through a team interpreter. "Everbody welcomed me with open arms. From the get-go, they gave me the confidence to let me play my ball the way that I know how to play it and that's been the key for me."
Red Sox manager Alex Cora said Reyes played for brother Joey Cora in Pittsburgh's farm system.
"We talked a little about him," Cora said. "Everybody feels that he can hit. He put some good at-bats today. He played some good defense. He's been really good for us."
Justin Turner had a two-run homer, Rafael Devers and Kiké Hernández also each drove in two runs and right-hander Brayan Bello (3-1) won on his 24th birthday, allowing one run on three hits in five innings with five walks and seven strikeouts.
Left-hander Marco Gonzalez (3-1) took the loss, lasting just 1 2/3 innings. He gave up eight runs on eight hits and two walks.
The Red Sox took a 9-0 lead after two innings, sending eight batters to the plate in the first inning and 10 in the second.
In the first, consecutive one-out singles by Turner, Rob Refsnyder and Devers scored a run, with Reyes' two-out double adding two more.
In the second, Turner's two-run homer, his fifth homer of the season, scored Alex Verdugo to start the scoring. Refsnyder walked before consecutive two-out singles by Masataka Yoshida and Hernández and another two-run double from Reyes with Jarren Duran's single scoring Reyes.
Boston added three in the fifth when Turner and Refsnyder singled, with Devers' double scoring Turner. Yoshida's groundout and Hernández's sacrifice fly completed the scoring.
"We knew coming into this series they had a really good offense and we needed to pitch well," Seattle manager Scott Servais said. "We just didn't execute pitches. You look up and they got big numbers on the board and it's tough to come back when you get that far down. We just didn't execute or do what we needed to do on the mound early in the ballgame to give us a chance."
The Mariners scored a run in the fourth when Cal Raleigh led off with Seattle's first hit of the game, a ground-rule double, and scored on Jose Caballero's two-out single. They added two more in the sixth when Caballero and pinch-hitter Sam Haggerty worked back-to-back one-out walks off right-hander Joely Rodriguez.
Ty France's single loaded the bases, extending his hitting streak to a career-best 14 games. Julio Rodriquez hit into a fielder's choice with a throwing error by second baseman Reyes combining to allow Caballero and Haggerty to score.
Seattle's J.P. Crawford extended his on-base streak to 14 games when he was hit by a pitch in the third inning.
ON THE MOVE
After the game, Cora announced that right-hander Nick Pivetta is moving from the rotation to the bullpen and would work as a multi-inning reliever. In eight starts this season, spanning 40 innings, Pivetta is 3-3 with a 6.30 ERA.
TRAINER'S ROOM
Red Sox: RF Alex Verdugo left the game after the second inning as a precaution because of left groin tightness. After the game, Cora said Verdugo should be ready for Friday's game. ... RHP Garrett Whitlock, on the injured list since April 25 with right elbow ulnar neuritis, is scheduled to make another rehab start for Triple-A Worcester on Sunday. ... RHP Kutter Crawford, on the IL since May 4 with a left hamstring strain, is expected to join the team and be activated on its nine-game West Coast trip, which starts Friday.
UP NEXT
Both teams are off Thursday. On Friday, Seattle RHP Bryce Miller (2-0, 0.47 ERA) is scheduled to face the Braves in Atlanta, while Boston LHP James Paxton (0-0, 3.60) is scheduled to start against the Padres in San Diego.