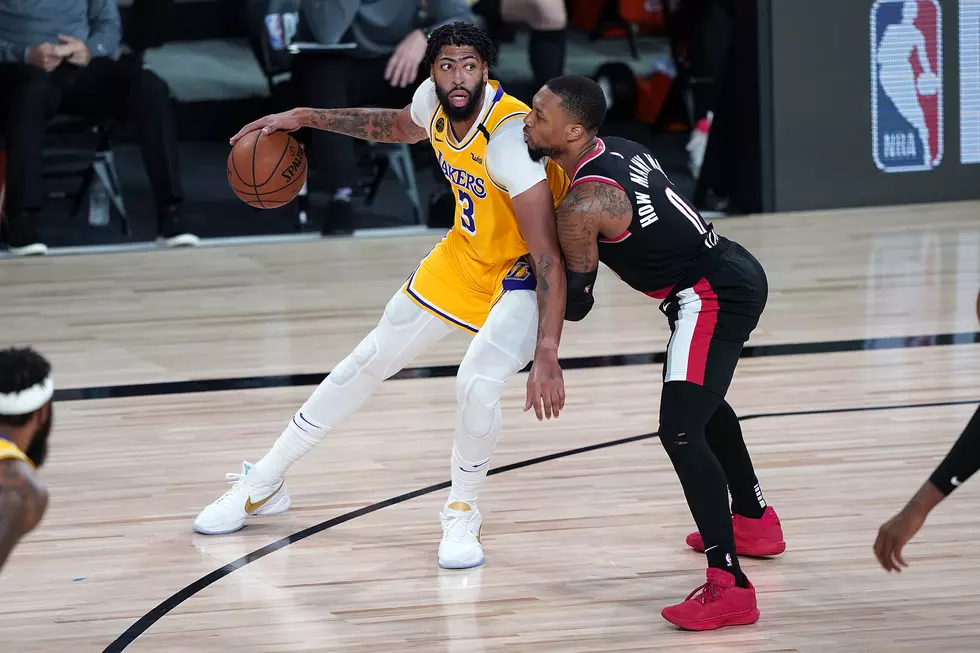 NBA Playoffs Highlight 1460 ESPN Yakima Schedule 8/20-24
Not to burst your bubble but the action from "The Bubble" is heating up and we have a host of NBA playoff games both on-air and online on 1460 ESPN Yakima.
Hooray, sports!
1460 ESPN Yakima is bringing the Worldwide Leader in Sports to your corner of the world! Don't forget -- you can also listen live via our free mobile app or streaming online at 1460ESPNYakima.com!

Enter your number to get our mobile branded app
THURSDAY'S RADIO (8/20)
Basketball: - NBA: Portland at Los Angeles Lakers - 5:00 p.m.
SATURDAY'S RADIO (8/22)
Basketball: - NBA: Oklahoma City at Houston - 2:30 p.m.
SUNDAY'S RADIO (8/23)
Basketball: - NBA: Los Angeles Clippers at Dallas - 12:00 p.m.
MONDAY'S RADIO (8/24)
Basketball: - NBA: Miami at Indiana - 3:00 p.m.
Friday
Boxing: Alvarez vs. Smith Jr Weigh-In (1 p.m., ESPN+)
UFC Live (2:30 p.m., ESPN2)
New York Yankees vs. New York Mets (4 p.m., ESPN)
esports: NBA 2K (4 p.m., ESPN3)
Philadelphia Phillies vs. Atlanta Braves (4:10 p.m., ESPN+)
FC Cincinnati vs. DC United (4:30 p.m., ESPN+)
Minnesota United FC vs. Sporting Kansas City (4:30 p.m., ESPN+)
Houston Dynamo vs. FC Dallas (5 p.m., ESPN+)
Toronto FC vs. Vancouver Whitecaps (5 p.m., ESPN+)
Saturday
KBO: NC Dinos vs. kt wiz (1:55 a.m., ESPN)
Seattle Storm vs. Las Vegas Aces (12 p.m., ESPN3)
UFC Fight Night Prelims (2:30 p.m., ESPN+)
Houston Rockets vs. Oklahoma City Thunder (3:10 p.m., ESPN)
Atlanta United vs. Nashville SC (4 p.m., ESPN+)
esports: NBA 2K (4 p.m., ESPN3)
Top Rank Boxing: Eleider Alvarez vs. Joe Smith Jr. - Main Card (4:30 p.m., ESPN+)
Inter Miami CF vs. Orlando City SC (5 p.m., ESPN+)
UFC Fight Night Munhoz vs. Edgar Main Card (5:30 p.m., ESPN)
Los Angeles Lakers vs. Portland Trail Blazers (5:30 p.m., ABC/ESPN3)
Colorado Rapids vs. Real Salt Lake (6 p.m., ESPN+)
Colorado Rockies vs. Los Angeles Dodgers (6 p.m., ESPN+)
Sunday
KBO: Lott Giants vs. Samsung Lions (12:55 a.m., ESPN)
Boston Celtics vs. Philadelphia 76ers (10 a.m., ABC/ESPN3)
Los Angeles Clippers vs. Dallas Mavericks (12:30 p.m., ABC/ESPN3)
Houston Astros vs. San Diego Padres (1 p.m., ESPN)
Philadelphia Phillies vs. Atlanta Braves (4 p.m., ESPN)