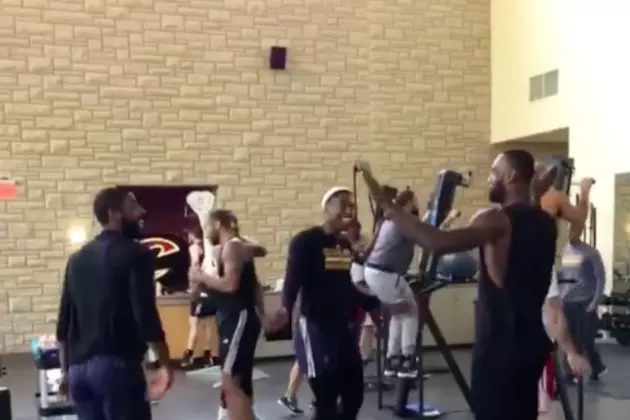 LeBron James, Kyrie Irving and Iman Shumpert Dance to Playboi Carti's "Magnolia" During Practice
djstephfloss via Instagram
The 2017 NBA Playoffs have looked awfully familiar as LeBron James, Kyrie Irving and the Cleveland Cavaliers continue their cruise toward the seeming inevitability of a third consecutive NBA Finals appearance—and have a lot of fun while doing so. Recently, they continued their fun by turning a workout session into a Playboi Carti-fueled dance party.
In an Instagram video uploaded by DJ Steph Floss, we see LeBron, Irving and Iman Shumpert turning all the way up as that "Magnolia" rings loudly in the background. The three turn in some energetic dance moves before converging to each other, only to disperse a few seconds later. That was the end of the clip, but you just know it didn't stop there.
The clip is just the latest of the great hip-hop moments LeBron's provided us over the last decade and some change. Recently, those moments have come in the form of the snippets he's played through Instagram, specifically the ones from Kendrick Lamar's DAMN. album. We hope you never change, LBJ.
In other Carti news, the Atlanta rapper's "Magnolia" recently debuted in the Billboard Hot 100 chart at No. 91. That sort of feat makes you realize LeBron and company haven't been the only ones bumping it. But then again, you probably already knew that.
A few weeks back, ESPN personality Papi Le Batard rapped a few bars from "Magnolia" on the Highly Questionable, and at that point, it was more than a little obvious the song wasn't going anywhere soon.
You can peep the video of LeBron, Kyrie and Shump dancing to the newly minted Billboard Hot 100 single in the video below.
Here Are the 2017 Hip-Hop Music Festivals You Need to See