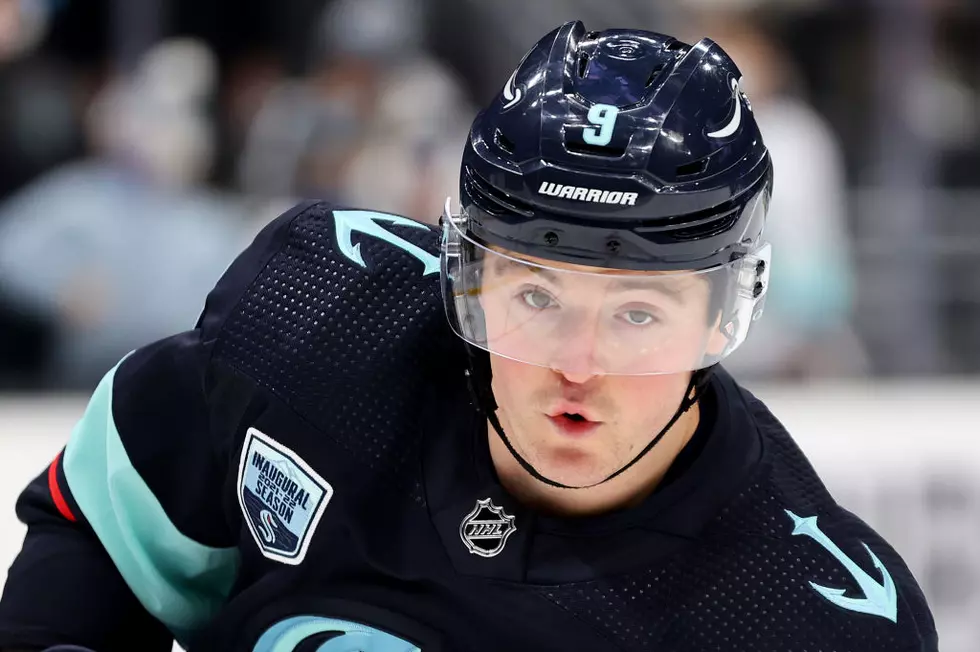 Kraken Believe Return to Normalcy has Helped Fuel Success
Getty Images
SEATTLE (AP) — Before this unexpectedly successful season for the Seattle Kraken began last fall, the team spent three days in the mountains of Alberta doing the kind of team bonding that was impossible in the expansion franchise's first season.
Dinners. Golf. Just hanging out and getting to know one another.
"I think it definitely makes a difference — chemistry, getting to know each guy," Seattle forward Ryan Donato said. "It's hard to say what you learn from each guy, but you just become a tighter group. You become friends with a guy, you get to know his interests, you get to know what he's all about, what kind of guy he is. It's easier to step up for a guy that you know a lot more about, or that you're a lot more friendly with."
The changes from Year 1 to Year 2 for the Kraken have been, and continue to be, significant. They will play Game 5 of their first-round playoff series against Colorado on Wednesday night in Denver with the series tied 2-2, a position that seemed highly unlikely to those outside the organization when that team retreat in Canada took place more than six months ago.
But one of the biggest changes for the Kraken on and off the ice has simply been normalcy. Whether it's been simple team activities or outreach in the Seattle community, the Kraken have been able to operate without the same COVID-19 restrictions or concerns that limited what they could do in their inaugural season.
Seattle wasn't alone in facing restrictions on what it could and couldn't do as a team during the 2021-22 season due to the pandemic. But those issues were uniquely impactful on the Kraken because they had never played together before.
With only a few exceptions had any of the players from Seattle's inaugural roster played on the same team before. And none had played as a collective unit.
"It was probably a little bit harder for us just in the sense that we had all these new players trying to learn a new system, their family's new in the area," Seattle general manager Ron Francis said. "We had a bunch of different team events planned to start the season, we couldn't do any of them because of COVID flare-ups and things happening. We couldn't really do anything over the course of the season."
Or as Kraken CEO Tod Leiweke said, "Starting a franchise in the middle of a global pandemic is not exactly how you want to go about things."
Those COVID issues were disruptive from the start. Seattle initially thought it would be without five players for the first game in franchise history due to COVID protocols. A month into the season, the team's first captain, Mark Giordano, had to spend 10 days in a Florida hotel after a positive test. Such disruptions made finding consistency on the ice nearly impossible.
"Last year was tough for us especially with COVID," goalie Philipp Grubauer said. "The core wasn't really grown together. It was not really perfect chemistry. You have to play a certain amount of games to get that goal and get the chemistry."
This season has been different. On the ice, Seattle produced one of the biggest one-year turnarounds in league history, finishing with 100 points in the regular season. In their first playoff appearance, the Kraken have given the defending Stanley Cup champion Avalanche a far tougher battle in the first round than many expected.
Away from the rink, the Kraken were able to start some of the community outreach that was almost nonexistent in their first year, whether it's player appearances, skills clinics or autograph opportunities.
Those little things helped the team connect with fans. And combined with a playoff appearance, the Kraken believe those efforts will help solidify their long-term foundation in Seattle's sports marketplace.
"You kind of want to make this a hockey town and have people love going to Kraken games and enjoy the product of playoff hockey, which is obviously why we play the game," Seattle's Jordan Eberle said. "It's enjoyable. I mean, you hear it out there. It's unbelievable. So I mean that's what we're trying to do."