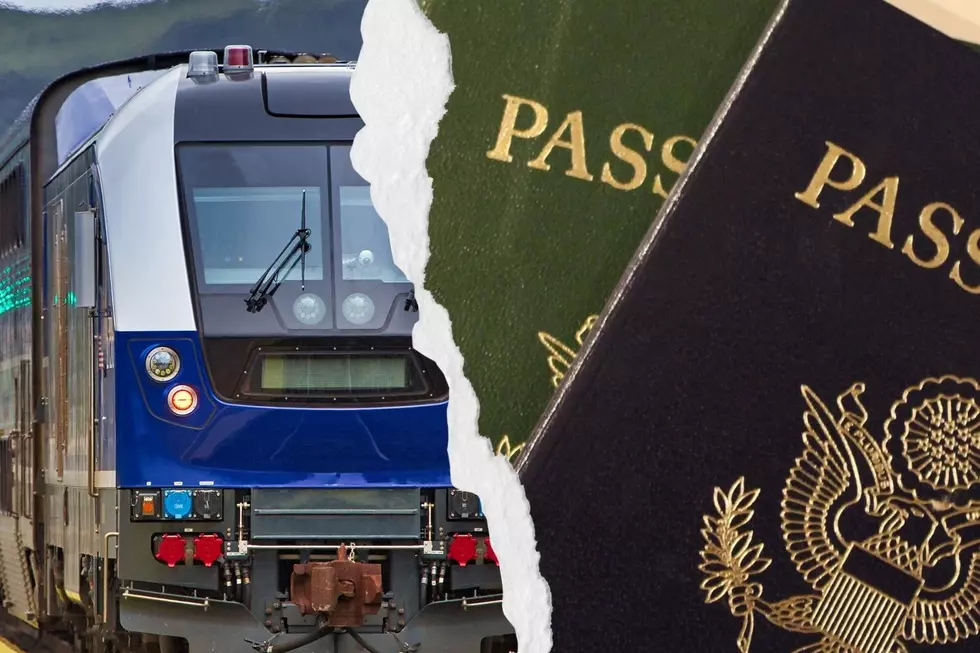 How-To Get Passport Card or Passport Book for the 1st Time in WA
canva
How-To Get Your First-Ever Passport Card or Passport Book in Washington
Ever since I heard the news that the Amtrak is reopened going from Seattle to Vancouver, I've been itching to ride the train across the Washington border into Canada. If you don't have an enhanced ID or have never applied for a passport, you need to know how to get a passport card or passport book as a first-timer.
There's an easy way to do it. Wish I had known that before I applied for my passport for the first time in Washington! I'll tell you how I applied for mine because I just did it the other day.
*PLEASE NOTE: Beginning May 2023, you will have to use either a Washington state enhanced ID or a United States passport card in order to fly domestically within the country. You should probably go ahead and apply to get either one of these now.
NEVER HAD A PASSPORT? JOIN THE CLUB
The first thing to figure out before beginning your first-time passport "journey" is to ask yourself: Get a passport BOOK or a passport CARD?
WHAT THE HECK IS A PASSPORT CARD?
A passport CARD grants you domestic travel within the United States as well as traveling to Canada, Mexico, the Caribbean islands, and Bermuda train, bus, ferry, or closed cruise ship trips. It looks similar in appearance to your driver's license or enhanced ID. It has a technology chip in it that can be read by the same type of machine that verifies your identity. 
HOW IS A PASSPORT BOOK DIFFERENT FROM A PASSPORT CARD?
The passport BOOK grants you all of the above (via land or sea) AND allows you to fly internationally. It costs a lot more than a passport card. (See current passport price info below.)
WHAT TO EXPECT WHEN YOU APPLY FOR A PASSPORT CARD OR BOOK FOR THE FIRST TIME
*PLEASE NOTE: Unfortunately, you can't just show up at the post office on the spur of the moment and get a passport for the first time or if you are 16 years and younger. You have to make an appointment online. Appointments to get a passport in Washington are hard to come by. They say it's because of COVID, but I don't buy that excuse because honey, we've been back to "normal" for a long time now.
Anywhoo, there is a long waiting list for a passport appointment. I had to wait about 4 to 5 weeks for mine. After you get your appointment and turn in your stuff, the expected wait time to receive your passport is up to 18 weeks from the time your form gets received at the United States Department of State.
The first thing you need to do if you're requesting your first passport card/book (including people under 16 years old) is to make your passport appointment online. at a post office that offers passport services. Make your appointment online here.
You will simply enter your zip code and the website will pull up a list of post office locations (sorted by distance). It is easy to make your appointment by LOCATION or by the DATE you want. Nice! Appointments are available every 15 minutes during passport window hours of operation. (Some post office locations have a self-serve kiosk, lucky!)
Once you turn in your paperwork and payment to the post office it can take up to 2 weeks for your application to get to the "In Process" status. WHY DOES IT TAKE SO FREAKING LONG?! (Sorry, I just had to vent.)
Here are the basic steps of how to get a passport card or passport book for the first time.
1 . Make Your Appointment Online
2 . Fill out the U.S. Passport Form
3 . Gather all the identity documents you need to turn in at the Passport appointment
4 . Bring a 2 x 2 picture to be used for your passport (or let the post office take one for you)
5 . Pay all the fees, and oh my word are there FEES
6 . Pray to the gods that your passport application gets approved
7 . Wait about a billion years until your passport comes in the mail

When you show up for your passport appointment make sure you have the following five (5)  things:
1 . Completed Passport government paperwork. I stopped by the post office weeks earlier to pick up the form so that I wouldn't have to waste any time in line trying to do that. You can also fill out the form online here. 
2 . Your original birth certificate that lists both of your parents' names on it. In some cases, you may have a birth certificate that does NOT have your parents' names on it, like mine. I was born in Tennessee and the original birth certificate I had was from 1988–before they required both parents' names listed for securing a passport. The original will be mailed back to you when you receive your passport card or book in the mail.
3 . A photocopy of your original birth certificate that will be filed with the U.S. government. You may need to request a copy of your original birth certificate from the Vital Records department of the state where you were born. Depending on the state, getting your birth certificate could unfortunately take WEEKS, so plan ahead accordingly.
4 . Your state-issued ID or enhanced ID.
5 . A photo of you sized 2 x 2 inches. If you do not have a 2 x 2 picture for your passport, the post office will be happy to take one for you for an extra $15.
WHAT HAPPENS AT YOUR PASSPORT APPOINTMENT?
When you arrive for your appointment at the appropriate post office location, you will go to the passport window and let them know you are there for your appointment. They will send you to a line where a member of the post office team will take your paperwork and required documents for processing and payment and take your picture if you need one. This should take less than 15 minutes. They will then give you a receipt for your records and you're done.
And now you wait!

IF your application gets approved, then your passport card will be mailed to you via the mail–and yes, you get charged a mailing fee for that, too.
I paid about $82 for my passport card. (I've heard that you have to pay the State Department a fee, too, so I'm now wondering if I got charged for that! What if we forgot??!)
$30 for a first-time adult passport card; and $15 for kids under 16; $130 for a first-time passport book for adults and $100 for kids under 16
$15 for the passport card picture per person (they will give you a passport photo to take home if you get it taken at the post office)
$35 for the State Department Fee per person
$18.32 for U.S. Post Office Mailing Delivery (Fee is determined by the post office.)
GUESS WHAT? The average waiting time for a passport card is up to 18 weeks. GEEZUS H.
WHAT IF YOU NEED YOUR PASSPORT CARD SOONER THAN 18 WEEKS?
You can have your passport card RUSHED to you…but the wait time for that is up to 12 weeks. Oh, and there is a $60 fee for that.
If you have emergency travel needs that require you to get your passport sooner than 12 or 18 weeks, you will need to call somebody. You will also have to pay for the rush service.
WHAT TAKES SO LONG FOR US TO GET OUR PASSPORT APPROVED?
Every passport card or passport book application gets sent to the U.S. Department of State for processing your paperwork and payment. I DON'T KNOW WHY THIS TAKES SO LONG, seeing as we have all this modern technology! (Sorry, I had to vent again. I really want my passport now!) 😂
LOOK: Baby names that are illegal around the world
Stacker
scoured hundreds of baby name databases and news releases to curate a list of baby names that are illegal somewhere in the world, along with explanations for why they're banned.