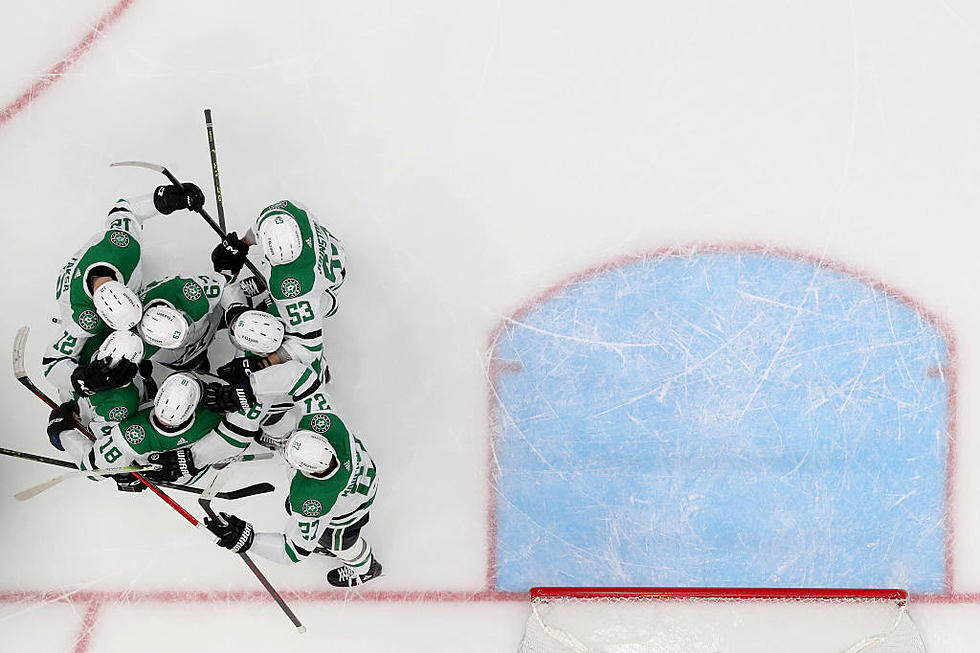 Heiskanen Scores in OT to Lift Stars to 4-3 win Over Kraken
Getty Images
SEATTLE (AP) — Miro Heiskanen scored 3:26 into overtime to give the Dallas Stars a 4-3 win against the Seattle Kraken on Saturday night.
Roope Hintz, Mason Marchment and Joe Pavelski also scored for Dallas, which has won five of the last six. Jake Oettinger had 28 saves.
"It just shows the resiliency of our group," Marchment said. "I don't think there was a doubt we were going to come back and win that one. We played a great game, great road game and that was a huge win."
Oliver Bjorkstrand, Jordan Eberle and Ryan Donato scored, and Vince Dunn had two assists for the Kraken, who lost two in a row. Phillip Grubauer stopped 22 shots.
The Kraken controlled the puck for almost the entire overtime, but after the Stars won a faceoff Heiskanen took a pass from Max Domi and fired in the winner.
"That was a great pass by Maxi," Heiskanen said. "It's been a while since our last overtime win, so it's great, of course. And it was a huge comeback win for us."
The last time Dallas had an overtime goal was on Dec. 12 against Detroit, although the Stars have had three shootout wins since then.
"I think we did all the right things and sometimes it's just not going to go your way," Donato said. "They have a lot of good guys that can capitalize on a split-second opportunity. We had a lot of good chances at the end, but it is what it is."
After a scoreless first period, the Stars broke at 4:51 of the second with Hintz's 32nd goal of the season. The score was set up by a rebound off Grubauer toward the left circle, and Esa Lindell fired a cross-ice pass to Hintz in the right circle, leaving an open net as Grubauer couldn't dive back across the crease in time.
The Kraken evened the score less than three minutes later, as Dunn fired a shot from near the blue line that was deflected by Matty Beniers and Eberle in front of the net. Beniers was initially given credit for the score, but it was later changed to Eberle. It was Eberle's 15th.
Dallas regained the lead about midway through the second period. After the Stars won a faceoff in their offensive zone, Marchment deflected Ryan Suter's shot past Grubauer for his 12th.
Donato tied the game again at 2-2 midway through the third period with his 13th goal.
The Kraken took the lead when Bjorkstrand scored a power-play goal with 3:25 left, but Pavelski tied it 3-3 with just over a minute left as he took advantage after Grubauer lost his stick in a flurry of activity in front of the net.
Dallas coach Pete DeBoer said his team didn't show any concern after Bjorkstrand's goal.
"Honestly, I think we felt pretty confident. I think we'd played a real good game to that point," DeBoer said. "The guys felt confident we'd get the goalie out and score a goal."
NOTES
Seattle's Jamie Oleksiak appeared in his 500th career game. Oleksiak was drafted in the first round by Dallas in 2011 and played 286 games for the Stars. He is the 123rd player in NHL history to play his 500th game against a former team. ... Dunn extended his point streak to nine games. That ties his career high and Seattle's team record that he set earlier this season. Dunn is the first defenseman to have two separate nine-game point streaks in the same season since Mike Green did for Washington in 2009-2010. ... Hintz extended his point streak to eight games, the second-longest in his career. ... Dallas was scoreless in its only power-play opportunity. The Kraken have now killed off 31 of the last 32 power plays they've faced.
UP NEXT
The teams play again in Seattle on Monday night.