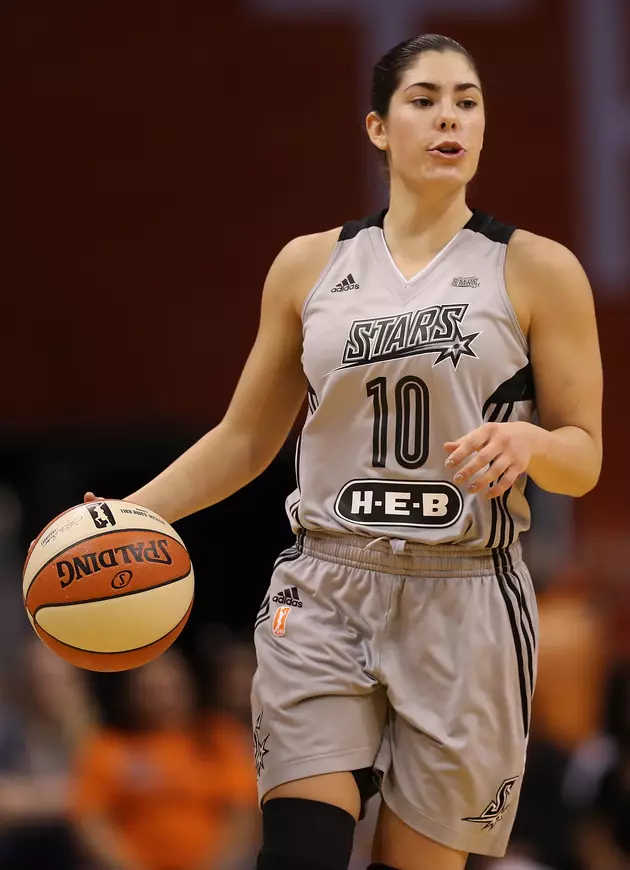 Hands-on Approach: Purple Pen Helps WNBA's Plum Blossom
Getty Images
NEW YORK (AP) — With Kelsey Plum struggling at the start of her career, San Antonio Stars assistant coach Latrell Trammell took a hands-on approach to try to break the rookie out a slump.
Last month, right before the Stars played at Indiana, Trammell took out a purple pen and drew a plus sign and the word "positive" on Plum's hand. She went out and scored 12 points that game — her high for the season to that point — and San Antonio won its first road game.
Trammell has done it every game since, too and just like that, the 5-foot-8 guard who set the NCAA career scoring record at Washington has blossomed.
"I started with purple because it's her college team color," Trammell said in a phone interview Monday night. "Ever since we started to do it, she's been doing very well. She glances down at it and smiles and is playing more relaxed. It's as simple as one word on the back of her hand."
Plum has played extremely well lately helping the Stars to a three-game winning streak, their longest since 2015. She had a career-best 12 assists on Friday night and then followed it up with a season-high 23 points on Saturday.
"It's still not daisies and roses, but continues to get better," Plum said. "I think I wasn't having fun and things in life that come at you, hit you hard."
Plum had a tough start to her career injuring her ankle in the practice before the regular season started. It was slow to heal and the team wasn't winning. This wasn't how she envisioned her pro career going.
"I love playing and love performing and I think I struggled with not playing to what I was capable of," Plum said Monday night. "It's been tough, too. I heard a lot of the noise about why isn't Plum playing the way we think she can play. People need to understand when I blew out my ankle, I tore everything in it that you couldn't have surgery for. I'm still not a full go. I'm still working back. It's not an excuse, but you have to adapt to something that happened. It took a while."
She wasn't having fun and that's when Trammell decided to try something she had done with other players.
"I went out and bought multiple colors in a packet," Trammell said, laughing. "I personally thought let's start with purple, that's where she had her great success. Let her carry that over and remember how good she is. "
So now every game before Plum comes on the court for pregame shooting, Trammell is there waiting for her, pen in hand.
"It's just something for me to remember to have fun and be positive no matter what happens," Plum said.
While the Stars (6-21) will be hard-pressed to make the playoffs this season, they are headed in the right direction.
"I think for us, we got to take it game by game," Plum said. "Next up we have Chicago, we've got to focus on Chicago. We're learning that when we play together and play with the passions we're playing with the last couple games, we're a good young feisty scrappy team. We can build upon what we've built the last couple weeks, really excited for our future."