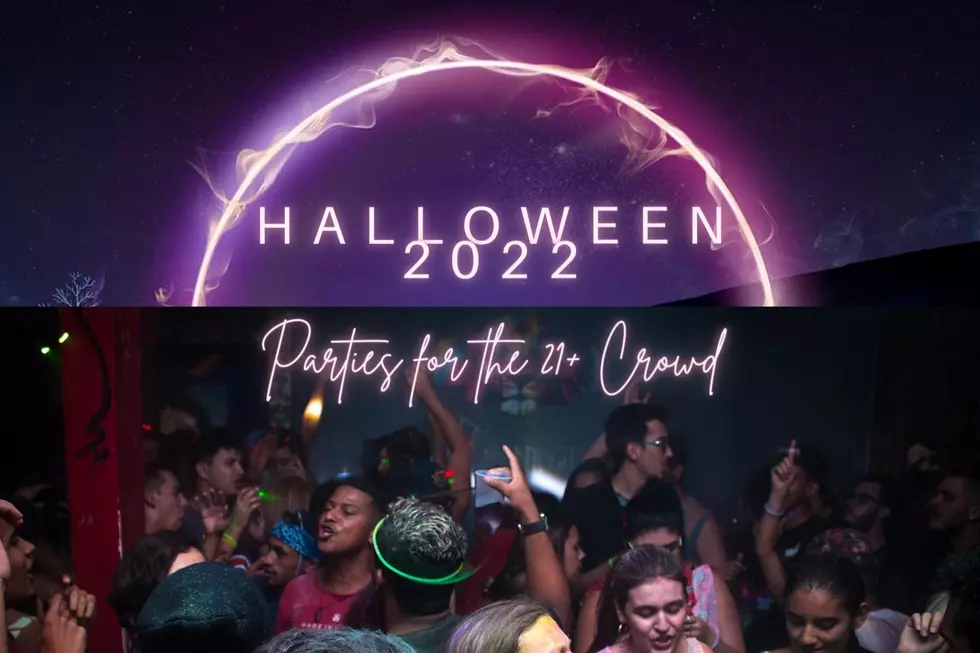 The 11 Best 21+ Halloween Parties at Bars in the Yakima Valley
Canva
Halloween in the Yakima Valley this year is gonna be LIT!
What's up, what's up! Halloween is right around the corner, can you believe it? Do you have your Halloween costume picked out yet? Are you planning on going to any fun Halloween parties at bars in Yakima? 
A friend reached out to us and asked if we knew of any bar parties for Halloween so we culled together this list of 11 of the best Halloween parties in the Yakima Valley (and in some cases, beyond). Grab your friends and let's go have some Halloween fun!
YAKIMA HALLOWEEN PARTIES
Saturday, November 5, 2022
10 p.m. to 2 a.m.
Hop Capital Brewing
2920 River Rd #6, Yakima
Tickets are $15
"Come see an epic show with 6 DJ's, Costume contest, light show and more!!"
Friday, October 28, 2022
7 p.m. to 9:30 p.m.
The Seasons Performance Hall
101 N Naches Ave, Yakima
Tickets are $20 for General Admission. VIP tickets and VIP Table available.
"Featuring Bowler & Spoons, The Fun Police, Peculiar Pretzlemen. Come Celebrate Halloween Burlesque Style With Yakima's Newest Popular Act."
3 . Bachata Nights at Purrr Halloween Style
Saturday, October 29, 2022
10 p.m.
Purrr Bar
308 E. Yakima Ave
Tickets are $8
"Social dancing to the best bachata, salsa, cumbia, merengue, kizomba, and more, played by DJ David Blancas. Theme: Halloween (wear a costume, mask, [and] face paint)!"
Tuesday, October 25, 2022
7 p.m.
Game & Grog
118 S 1st Street, Yakima
"Yakima's original game bar! Come on down to grab a drink, a controller, and a good time! (21+ only) Join us for a spook-taculiar drag show! Featuring Gamyer and Allies' Johnny Longboi, Helena Basket, Austin Tacious, Jinx, and Reign Havok!"
Yakima Sports Center & Gus's Pizza
Saturday, October 29, 2022
Starts at 8:30 p.m.
214 E Yakima Ave, Yakima
"Costume prizes and DJ Big Ern!"
ROSLYN HALLOWEEN PARTIES
Saturday, October 29, 2022
Starts at 9 p.m.
The Brick Salooon
1000 W Pennsylvania Ave, Roslyn
"This is going to be one heck of a Halloween Party! The top 3 costumes will win prizes and (or) cash (chosen by The Brick owners or appointed staff). Photos with the band, signed swag, and massive 90s Alt Rock!"
UNION GAP HALLOWEEN PARTIES
7 . Haunted Halloween Scavenger Hunt
Friday, October 29, 2022
6 p.m. to 7 p.m.
Skateland
2506 OLD TOWN RD, UNION GAP
Tickets are $10
Saturday, October 30, 2022
1 p.m. to 4 p.m.
Skateland
2506 OLD TOWN RD, UNION GAP
Tickets are $8.95 per person
"During our 1pm – 4pm all-ages skate session come celebrate Halloween with spooky music, costume contests and more! It's spooky fun the whole family can enjoy!"
TOPPENISH HALLOWEEN PARTIES
9 . Oz + Dr. Crue Tribute Bands Concert
Saturday, October 29, 2022
6 p.m. to 9:30 p.m.
Legends Casino Hotel
 580 Fort Rd, Toppenish
Tickets are free.
"Ozzy Osbourne and Motley Cruë tribute band. Must be 18 years and older to attend any event."
WAPATO HALLOWEEN PARTIES
Friday, Oct. 28, 2022
7 p.m. to 10 p.m
Freehand Cellars
420 Windy Point Rd, Wapato
"Attend for an excuse to get dressed up and enjoy some wine. Taco truck on site for food purchase. Free."
ZILLAH HALLOWEEN PARTIES
11 . Winery Ride & Halloween Costume Contest
Saturday, October 29, 2022
10 a.m. to 6 p.m.
Whitman Hill Winery
2911 Roza Drive, Zillah
Free to attend; Purchase cornbread and chili for $5
"Whitman Hill Winery is excited to welcome back the Back Country Horseman of Washington for their 21st Annual Winery Ride and Halloween Costume Contest."
SEE ALSO: A Ghost Town That Might Spook You Out This Halloween Season
LOOK: How Halloween has changed in the past 100 years
Stacker
compiled a list of ways that Halloween has changed over the last 100 years, from how we celebrate it on the day to the costumes we wear trick-or-treating. We've included events, inventions, and trends that changed the ways that Halloween was celebrated over time. Many of these traditions were phased out over time. But just like fake blood in a carpet, every bit of Halloween's history left an impression we can see traces of today.
25 Scaredy Cat-Approved Halloween Movies
SWEET: Here are the most popular Halloween candies