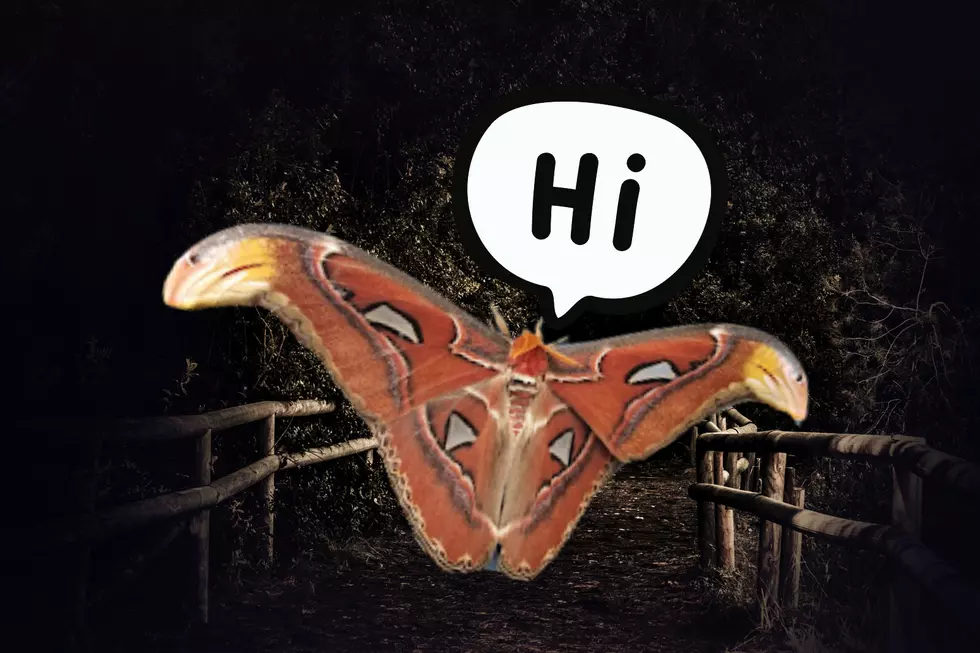 One GIANT Moth Is on the Run in Bellevue WA: It's HUGE
wastatedeptag.blogspot.com/Canva
One gigantic moth has been discovered flying around in Washington state. A homeowner saw the huge moth on their garage in Bellevue, Washington just a month ago. (Fox13 Seattle) The moth is so unusually big that it might scare someone but the Washington State Department of Agriculture says this particular moth is not dangerous to humans. It is believed to be a tropical moth and this is the first reported sighting of this species of moth in the country.
HOW BIG IS THE ATLAS MOTH?
We wanted to know how large and in charge this Atlas moth really is. The giant moth has been called one of the "world's largest known moths"! Its wingspan can be that of a man's hand (that is, if he has big hands, not small hands). I
f you take out a ruler and measure 10 inches, that's how large the Atlas moth can be. The wildest thing about this moth being found in Washington is that it is not on the list of registered legal insects, meaning it is illegal to own one of these moths! You would have to get a permit from the United States government to have one of these in your possession.
WHERE TO SEE OTHER BIG AND BEAUTIFUL FLYING THINGS IN WASHINGTON
There is a butterfly and monarch exhibit in Seattle at the Woodland Zoo, Molbach's Butterfly Garden. Once you walk inside, it's as though you have stepped into dreamland. I recently took my 11-year-old daughter Willow with me to the Woodland zoo and we spent about half an hour gazing at the magnificent butterflies and monarchs in the exhibit. They fly around freely but there are two security members who thoroughly inspect each zoo guest before leaving the monarch house to make sure that none of them are on your clothes. There were no moths there, but some of them actually look similar to the creature found in Bellevue, although none of the butterflies and monarchs at the zooo were as giant as the Atlas.
RELATED: 4 WA State Restaurants (And One from The Dalles) Made Yelp's TOP 100 List
The Atlas probably has a bad rep for being a plant pest that needs a government permit because it really loves apples and cherries, which as you may know happen to be part of the huge crops grown in WA state.
If you happen to come across this gigantic Atlas moth that is on the run in Washington state or any of its huge wingy kinfolk, take a picture of it and send an email to pestprogram@agr.wa.gov.
4 Hidden Gems in Yakima Valley You've Got to See for Yourself!
Which one of these have you experienced for yourself? In this edition, we'll visit hidden gems including restaurants, a museum, and a state park.
Take a Pic of Yourself in Yakima at One of these 74 Mural Selfie Walls
Did you know that the city of Yakima, Washington, has over seventy-four (74) murals that would make for a fantastic place to get your sightseeing selfie? You've no doubt taken quite a few selfies in front of popular landmarks and selfie wallls.
Keep your eyes out for one of our unique photo-op murals to add to your collection in your social media pics, and stop and take a memorable selfie of yourself in the heart of Yakima!