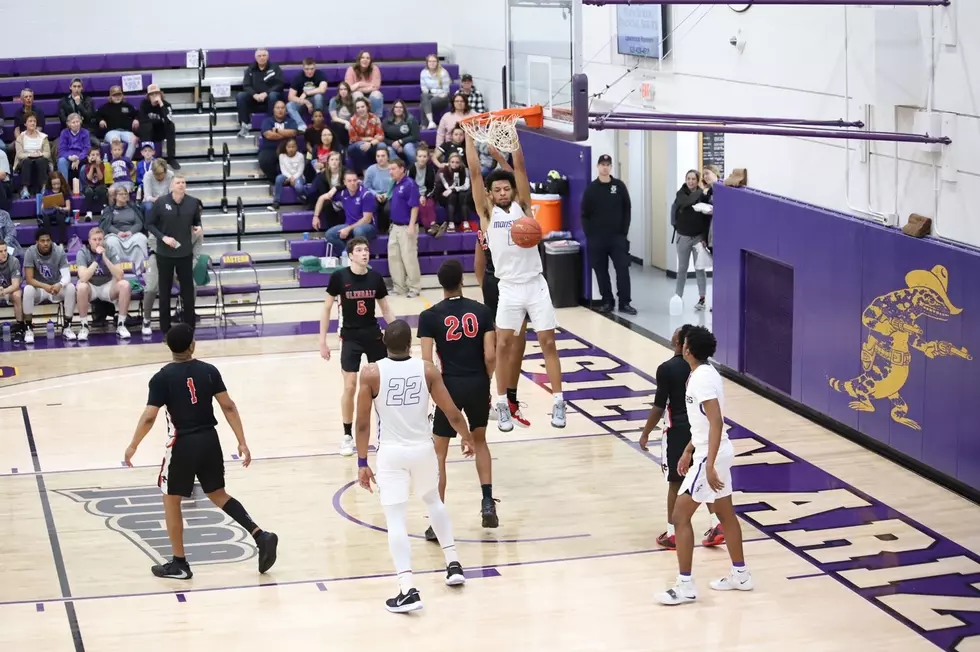 Former Davis Pirate Collin Kelley Wants To Make An Impact At CWU
Kenna / Eastern Arizona College
Former Davis Basketball star Collin Kelley recently achieved his lifelong dream, when he committed to a four year college basketball program. 
After spending two years playing Junior College ball for Eastern Arizona, Kelley will play the final two years of his collegiate career for Central Washington University. 
For this 6-foot-7 power forward, it's been the culmination of the hardest journey of his life. 
"Back when I was in high school, Central was actually recruiting me, " Kelley said. "But it didn't come together then. Now I finally get to come home, and play in front of my family and friends."
During Kelley's final days at Davis High School, he was admittedly not happy with the position he was in.

As an athlete, he was a superstar. For many years, Kelley was the face of the legendary Davis Pirates Basketball program. The four year starter was throwing down dunks at a young age, and electrifying gym's across the state.
But off the court, Kelley was also a bit of a superstar. He was charismatic, tall, some might say charming, others might say cocky. Either way, Kelley saw himself in a certain light.
With the distractions of basketball promise, and being a popular figure, Kelley lost track of his chemistry tests and book reports. From freshman year on, his grades began to slip further and further.
"I had UW coming to my games as a sophomore," Kelley said. "But once they talked to my coaches, figured out my situation, my grades, they started to back off."
Kelley was skipping classes, skipping school, and not heeding advice from people looking out for him.
"Coach [Raul] Alvarado was the biggest person in my ear telling me I needed to get my grades right," Kelley said. "But I was just being lazy. I didn't even know if I was going to graduate until I did."
Reflecting on why it never came together academically in high school, Kelley can't lay a finger on a single reason. 
When Kelley moved from Seattle to Yakima prior to his freshman year, he was an unhappy young man. He had moved 13 times growing up, and now found himself in another unfamiliar city in Yakima. The only thing he found solace in was on the basketball court. 
Regardless of why it happened, Kelley's future was decided. Instead of playing in glitzy gyms in front of thousands of fans, he was headed to play his college ball in the desert, in the middle-of-nowhere, USA.

Also known as Thatcher, Arizona.
The Eastern Arizona Monsters is the mascot Kelley repped, and he would become exactly that, a monster. 
But he didn't become a monster in a negative sense, Kelley became a monster in striving to be the best version of himself.
From dusk til dawn, Kelley's sole purpose was to become a better basketball player, and most importantly, become a better student.
Attendance became 100%, he attended study hall everyday, he talked with his professors, the student resource center was heavily utilized. Kelley became very interested in his classes, and the ball would really start to roll then.
"The whole thing was me realizing that I'm better than this," Kelley said. "There were no distractions in Thatcher, so I was to ready put my head down and get to work."
His persistence and belief in himself would pay off in ways greater than he could have ever imagined.
Making the Dean's List became a regular occurrence. His GPA hovered at the 3.5 mark his entire run at Eastern Arizona. Most importantly, Kelly was proud he had conquered the biggest roadblock in his journey. 
In a way, the on-court part was actually the easy part for Kelley.
From day one, Kelley was inserted into the Monsters starting lineup. During his 64 games with the Monsters, Kelley was consistently a top scorer and rebounder on the team. His excellent performances would impress many four year programs across the country. 
Division I interest was brewing, and he even received an offer from a D1 school in Rhode Island. As exciting as the prospects were of playing on the biggest stage, Kelley knew in his heart that it was time to come home. 
"Central was my best option. I love the campus, the gym, the facilities, but I most like how close it is to home," Kelley said.
Now more than ever, Kelley feels prepared for this next chapter in his journey. There's a laundry list of goals he wants to accomplish in a Wildcats uniform; Including winning GNAC Titles, making it to the national tournament, and hopefully perform at an All League level.

If everything goes according to plan at CWU, Kelley believes he can achieve another big goal down the line, and that's making it to the professional level. Whether it'd be the NBA, the G-League, Mexico, Europe, or anywhere around the world, the dream is alive to become a pro.
Collin Kelley is a well known person in the Washington Basketball community, and he's been raved as a high character guy everywhere he's gone. This is a player the entire community can be proud of, as he continues his basketball story.