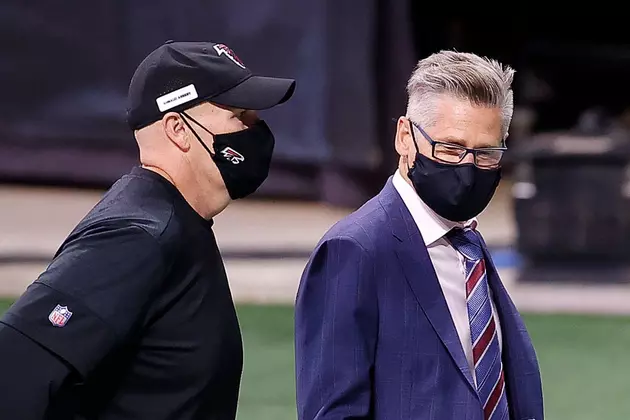 Falcons Shut Facility After 2nd Positive Test and Other NFL News
Getty Images
(AP) — The Atlanta Falcons say they have shut their facility following one new positive test for COVID-19.
Defensive tackle Marlon Davidson was placed on the COVID-19/reserve list this week. The addition of a second unidentified person caused the Falcons to act out of caution.
A team spokesman said the second person was not a player. The spokesman added that, barring any changes, the Falcons are expected to be back at their facility on Friday.
— The Chiefs have signed Le'Veon Bell, two days after he was released by the Jets. The move gives the defending Super Bowl champs greater running back depth behind Clyde Edwards-Helaire, who has been one of the league's most impressive rookies this season.
— Patriots quarterback Cam Newton and cornerback Stephon Gilmore returned to practice for the first time since testing positive for the coronavirus. That puts both players on track to be in the lineup when New England hosts Denver on Sunday.
— The Chiefs will be without offensive lineman Kelechi Osemele and wide receiver Sammy Watkins when they visit the Buffalo Bills on Monday. Osmele tore tendons in both of his knees and Watkins hurt his hamstring during Sunday's loss to the Raiders.
— Quarterback Baker Mayfield's sore ribs aren't the only concern this week for the Browns. Star wide receiver Odell Beckham Jr. was sent home Thursday feeling ill. Coach Kevin Stefanski said the team acted out of caution because of COVID-19 concerns while preparing for this week's matchup against the unbeaten Steelers. Stefanski said Beckham did not test positive for the coronavirus.