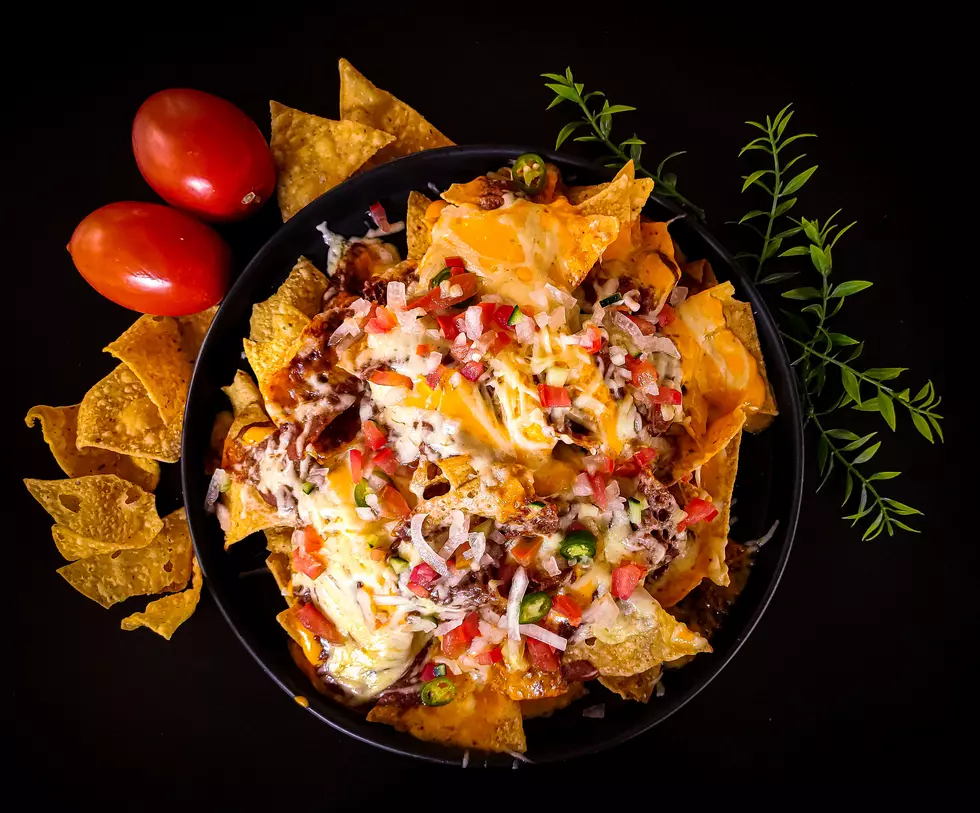 6 of the Best Nachos You'll Find in the Entire Yakima Valley
Coffeey Workafe on Unsplash
Who has the best nachos in the entire Yakima Valley? That is kind of a loaded question, don't you think? (Pun intended.) There are so many nachos to choose from, so little time. I just want to eat the BEST of nachos, not the ones that make me say, "Meh." I'm looking for nachos so good they would even make Nacho Libre take a bite.
I asked my friends on Facebook for their suggestions for the best nachos we can find in the Yakima Valley and their answers did not disappoint!
1.
Strawberry Nachos
208 S Toppenish Ave, Toppenish, WA
My friend, Travis Lucky Bob, who owns A&B Native American Cuisine, makes these Strawberry Nachos that look absolutely yummy! I had no idea he and his wife, Andrea, even made something like that! I haven't tried it yet, but if they are half as good as those bomb a** Fry Bread Supremes that he makes, I am sure it's delicious. And it's budget friendly because it's only $5!
2.
Pulled Pork Nachos
2319 Rudkin Rd, Union Gap, WA (Across from the Outback Steakhouse restaurant)
Call for hours: (509) 945-1607
I have loved taco nachos for the longest time--until i tried pulled pork nachos. Now they are my ultimate fave kind of nachos. But my pulled pork nachos have to have a bunch of stuff on top. Stuff like, fresh diced onions, sour cream, salsa. Kim's Got Smoke is where I had my first taste of pulled pork nachos ($13.50) and I'm telling you, I fell in love, y'all!
3.
Nachos
5110 Tieton Dr, Yakima, WA
My friend Carol says her favorite nachos are at The Pub. I have never tried their nachos but looking at the menu makes me want to go there right now! The nachos at The Pub have ground beef, black beans, pepper jack cheese, cheddar cheese, pico de gallo, jalapenos, and sour cream. YUM.
4.
Thai Nachos
4000 Creekside Loop, Yakima, WA
I forgot just how much I love the Thai Nachos at WaterFire! One time my crush took me there for lunch and I ordered the nachos. They were so good and he was so cute that I had to ask for a to-go box so that I could scarf them down in peace! Thai Nachos at WaterFire are one-of-a-kind and so TWANGY that your tastebuds will water up and make you say, "Sugar, pass the peach sweet tea!" in a Southern accent. Here's what is in their distinctive nachos: GOLDEN WONTONS! The wontons are smothered in chicken drenched in a Thai-inspired sauce plus basil, ponzu (whatever that is, I have forgotten already), jalapenos, cheese, peanuts that have been roasted along with a peanut sauce, and slaw. I told you they were truly unique!
5.
Nachos con Carne, Asada, or Supreme
5110 Tieton Dr #270 in Glenwood Square in Yakima, WA or 2529 Main St Suite D24 in Union Gap, WA
My friend Lisa thinks Xochimilco's nachos are the bomb, as the kids say. She didn't say which version of their nachos she likes but Xochimilco's offers three different varieties: With ground beef (carne), Asada (grilled beef), or supreme. I'm guessing the Supreme Nachos come topped with sour cream?
6.
Nachos Nayarit
606 S 36th Ave, Yakima, WA
My FB pal John says the nachos at Mariscos Nayarit are the best. I checked out there menu somebody posted online and the description leaves me ready to taste these flavorful nachos for myself. Check this out: nachos "served w/your choice of chicken or beef, beans, jalapenos, onions, tomatoes, guacamole, cilantro, and sour cream."
Where do you love to get nachos in the Yakima Valley? I'm so used to eating close to home within the Yakima city limits but I'm not going to let that stop me from finding the BEST nachos in the Valley! Please send me your ideas in the app (just hit the CHAT button)!
Back in 2019, the Yakima Herald released their "Best Nacho" Results if you need some more ideas of where the locals say are the best nachos to be found in these parts!
8 Things We Love Most About the Central WA State Fair
We asked a few of our favorite locals what they love most about the Central Washington State Fair. We are sure one of their answers will match yours!
States with the most registered hunters
Stacker
analyzed data from the U.S. Fish and Wildlife Service to determine which states have the most registered hunters. Read on to see how your state ranks on Stacker's list.
Sexy House in Yakima Fit for a TV Telenovela Soap Opera